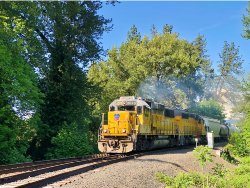 Welcome to the RRPictureArchives.NET contributor site of Tristan G.

Hello and welcome to my page here at RRpicturearchives. I've been a full-time railfan since the age of three, right when Union Pacific had purchased the great espee, and a total train lover ever since. My pictures are brought to you from the beautiful Pacific NorthWest.

Oregon Railroading is by far my largest album which features many mainline Union Pacific freight trains, Amtrak passenger service, most of which on the ex-SP Brooklyn and Cascade Subdivions, as well as some shortline action including the Central Oregon & Pacific Railroad, and the Portland & Western Railroad, as well as the newly formed Coos Bay Rail Link , and the very interesting and historic yet unfortunately now defunct Port of Tillamook Bay Railroad, which during its time of operation used only an assortment of former SP GP and SD9's, with former BN SD9's, and one cow painted GP9 numbered 101 from the Chessie System, all of which were first generation diesels manufactured around the 1950's. The POTB was one of the last (if not the last) to operate all of it's trains with these historic diesels, sometimes 5 of them in just one lash up. You will also see many glimpses into the late great Southern Pacific, including locomotives, rolling stock, signals, signs, and cabooses.

My original album about BNSF in the state of Washington is quite short but very colorful and shows some of my favorite captures in a small handful of cities, including Seatlle. For this reason, it's been aptly renamed BNSF: One Year in the Long Rainbow Era (2007-08) to separate it from the Vancouver, WA. Trips which started after my Brother and long time railfanning companion moved there on August 24th, 2012. This will probably end up overtaking Oregon Railroading as my largest album on this site, with 20-40+ pictures uploaded each trip, with trips being (so far successfully aimed) at one each month. That album is tentatively to be renamed "The Depot Inside the Wye and Areas Surrounding Vancouver, WA." After I have enough pictures in it and information to share on what has very quickly become MY idea of a railfans-heaven-on-earth.

My last album is Remains of The Marcola Branch, which is an abandoned logging branch line between Springfield, Marcola, and Wendling. Constructed by the Southern Pacific and later sold to Weyerhaeuser who ran the line until 1989 with a short roster of bright yellow GE 70 tonners. There's not much left but a few nice finds including the historic McKenzie Rver (Hayden) Bridge, which is the oldest standing railroad bridge in Oregon, and possibly all of the Pacific Northwest.

And if you're just stopping by, I'd like to invite you to check out the "My Picks" link, to see some of my very favorite pictures...

--I hope you enjoy my railroading photography, i truly do appreciate the comments, and thank you very much for just letting me share what i love doing with you.

PS. I frequently railfan with my brother Tracy Larson, without him much of this would not be possible. You can check out his photos on his site by clicking HERE.

Cameras Used....
Sony Cyber-shot DSC-P72 3.2 Megapixels (2004-2007),
Kodak Easyshare Z710 7.1 Megapixels (2008-2012),
Casio Exilim EX-S5 10.1 Megapixels (2012-present.)


You may browse my collection of pictures via the menu located on the left hand side of the page. I hope you enjoy the collection and thanks for stopping by!